Cria 2013
Here are just a few photographs of this year's cria. I will be updating this page as our new additions make their appearance!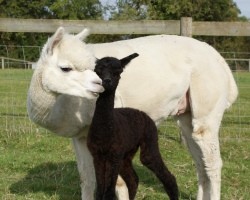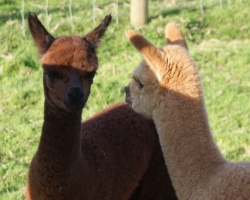 Baby love!
Willowbrook Apollo
We waited and waited for the mischievous Apollo to be born. He finally decided to make his appearance at 365 days gestation, weighing an enormous 11.9 kg at birth! Following his late arrival, this young male was not planning to waste a second longer. He was so burly and eager to get up, it was necessary to restrain him simply to apply the umbilical spray!
A truly exceptional male cria sired by 'Snowmass Sizlin Hot'. Uniform in colour, tightly bundled fleece with phenomenal brightness and density.
Born 29th May 2011 - 1.00 pm
Weight: a whopping 11.9 kg!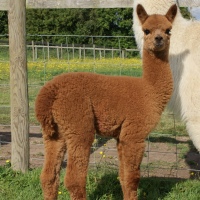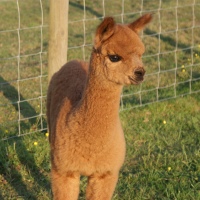 Standing proudly just like my Apollo at 4 days old
daddy!
Willowbrook Revelation
Second in line was Willowbrook Revelation. Another laudable male sired by 'Sizlin Hot' with superfine and dense fleece characteristics.
Indeed an upstanding and gentle male; this is his prize-winning dam's first cria. With legendary genetics to boast on both sides of his pedigree, the future should be bright for this boy.
Born 14th June 2011 - 11.05 am
Weight: a neat 7.5 kg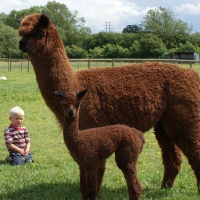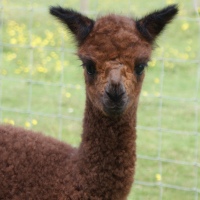 Revelation with his dam Just dry Willowbrook Poppy, and Ben!
Willowbrook Milly
Following closely behind the boys was Willowbrook Milly. A striking female cria also sired by 'Snowmass Sizlin Hot', whose arrival caught us somewhat by surprise. We discovered her early one sunny summer morning, completely dry, cushed alongside her very attentive dam!
Despite the lack of human intervention in her first few hours of life due to her unscheduled appearance, Milly is particularly affectionate. Always head held high, this 'little miss' exudes attitude and presence and can always be found in the thick of it!
Born 20th July 2011 - 4.00 am ish!
Weight: 8.5 kg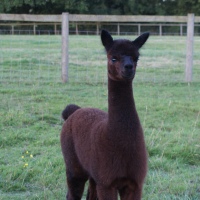 Will anybody play with me? Milly contemplating mischief!
In short we have been delighted by the quality of our 'Snowmass Sizlin Hot' cria, and this elite stud's ability to significantly improve without exception fleece characteristics, animal conformation and overall appearance. With superior genetics from the U.S. obtained from three decades of selective breeding, he is, and will continue to be the number one choice to advance our coloured breeding programme for the foreseeable future.
We are very excited to see the results of last year's breeding decisions when our cria start to arrive, and equally we are looking forward to examining the progeny of our clients and other astute breeders who used Sizlin Hot's services in 2012. A very exciting year awaits!!