Welcome to Willowbrook Farm
Welcome to the Home Page of Willowbrook Alpacas. Based in the village of Broughton Gifford in West Wiltshire, we are selectively breeding huacaya alpacas of varied colours, to genetically improve fleece characteristics and animal conformation.
At Willowbrook Farm, the health and welfare of our animals is foremost. We endeavour to halter train all of our alpacas, so that we are able to offer sociable, content and easily managed animals for sale.
We provide friendly and ongoing advice to anyone who may be interested in keeping alpacas. Willing to offer help to the complete novice who has a desire to keep alpacas simply for pleasure, or for those who wish to enter a growing industry with commercial potential.
Scroll down for our latest news................!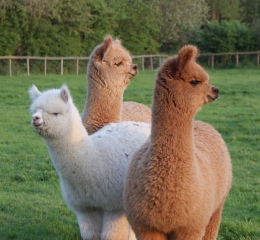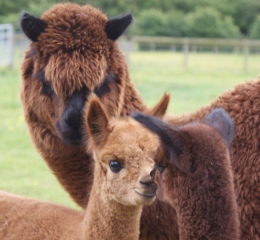 Elite alpaca genetics
Latest News..............
23rd March 2017
I recently attempted to take some fleece photographs of some of last year's cria. They stood still beautifully; much to my surprise!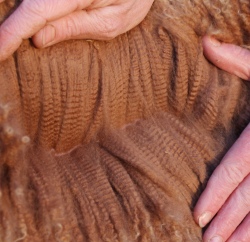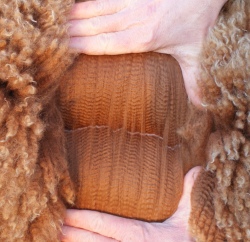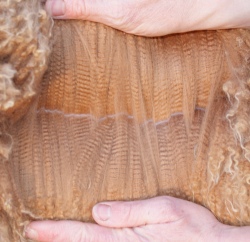 Fleece photographs taken in February 2017 - two fawn and one brown cria
3rd June 2016
It was the first time we have exhibited at the Royal Bath and West halter show this year, and we were lucky enough to have good weather on our side. The show was well organised, and we had a very enjoyable day. We would definitely recommend a visit, and hope to attend again next year.
We took along a small show team, as most of our herd is shortly due to give birth! We were not disappointed as our two Intermediate Snowmass Sizlin Hot daughter's both took Reserve Champion sashes in the Fawn and Brown classes. Willowbrook Midnight Mystery, also sired by our stud male Snowmass Sizlin Hot, was awarded 1st Adult black female against some very tough competition. Finally, Willowbrook Finesse, sired by our home bred stud Willowbrook Gold Rush, was awarded 1st Junior brown female in her class by judge Rob Bettinson. Ironically, Willowbrook Treacle and Finesse went head to head for the Reserve Champion Brown female, so it was a mad dash to borrow a white coat, as we had only taken one along with us!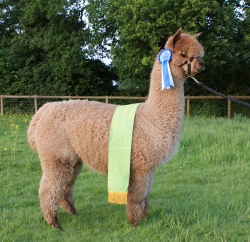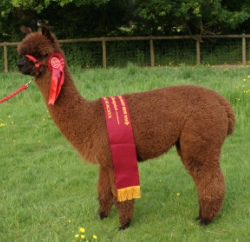 Willowbrook Tooty Frooty, and Willowbrook Treacle - Reserve Champion Fawn Female, and Reserve Champion Brown Female - Royal Bath and West 2016
1st October 2015
Snowmass Sizlin Hot has demonstrated yet again his significant value in the quality of the offspring he is producing! Willowbrook Midnight (a pregnant Intermediate Black) and Willowbrook Truffle (Junior Brown), both Sizlin Hot daughters, were awarded first place in their classes at Europe's largest fleece show. Tim Hey and Nick Harrington Smith judged 240 fleeces at the HofE National Fleece Show on 27th October 2015. The quality of fleeces on show was very high, with stiff competition in all classes. Midnight was 1st out of a class of 13, while Truffle was 1st out of a class of 12. We were really chuffed!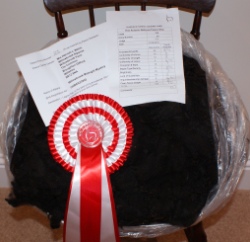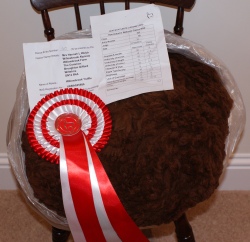 18th September 2015
Making haylage while the sun shines - well we saw a brief glimpse from behind the clouds at times!
We took the opportunity to take our final cut of grass last week. I always love preparing for the changing seasons, and there is nothing better than opening a sweet smelling bale in the depths of winter. I have a great sense of satisfaction, safe in the knowledge that the nursing dams and their cria, always have access to top quality, home produced forage!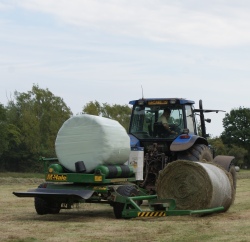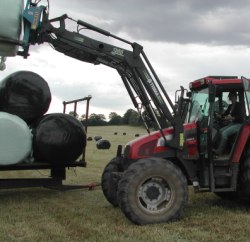 Preparing for winter - making haylage, and then a picture of me collecting the bales!!
4th May 2015
The North Somerset Show, held this year on the 4th May, proved to be another successful day. I was late with my entries, and took the only last two available places with one junior female and one intermediate female. Willowbrook Midnight, a beautiful Snowmass Sizlin Hot daughter, took 1st place Intermediate Black female against some very tough competition. Then my favourite, Willowbrook Truffle, full sister to my National Champion Sizlin Serenity, took 1st Junior Brown female, and then Champion Brown female in one of the largest classes of the day!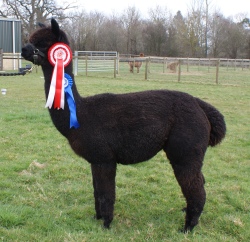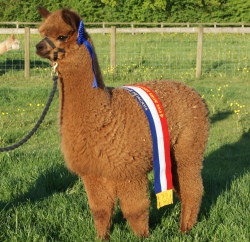 Two elite Snowmass Sizlin Hot daughters
2nd May 2015
May was a busy time for us. At the beginning of the month we exported potential stud male Willowbrook Nemesis to his new home, Alpacalandgoed, in Belgium. His pedigree boasts many show winning names on both sides of his pedigree including, Lilyfield Jack of Spades, Canchones Discovery of Cambridge, Accoyo Killawasi and Jolimont Cassiano!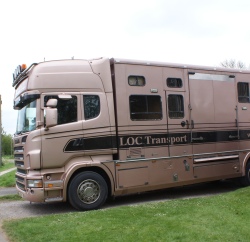 The beginning of a long journey!
28th April 2015
A trio of beautiful pet males! One solid white, one solid dark fawn, and one solid brown. This photograph was taken just before they headed off to pastures new. Alpacas travel well, and halter training makes the task of moving and loading them so easy. Walking them is great fun too!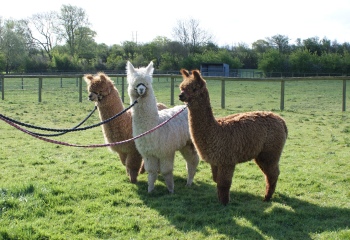 A trio of males just prior to setting off to their new home
21st March 2014
Firstly I must apologise for falling behind with my news updates! With all the horrible wet weather that was bestowed upon us this winter I found very few photographic opportunities.
We have had a very busy time with recent alpaca sales to Yorkshire and Warwickshire, and preoccupied by all the fun, I nearly missed the closing date for the National Fleece Show held last weekend! It was a mad dash to the post office one afternoon but I made it just in time with one of my Brown Intermediate fleeces. However, I am very pleased that my sprint was up to the challenge, as Willowbrook Sizlin's Secret Serenity took 1st place in the Brown Intermediate Huacaya class and Champion Brown Fleece with 80.5 points. The Reserve Supreme Champion Fleece was a Light Intermediate that scored 82.5 points, so we are witnessing once again that the progeny of our top quality stud male 'Snowmass Sizlin Hot' are capable of achieving success at the same high level in the darker colours that was once only achieved by whites and lights.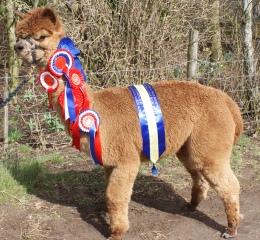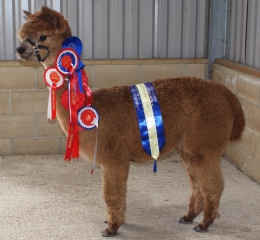 Willowbrook Sizlin's Secret Serenity - Champion Brown Fleece National Fleece Show 2014
8th May 2013
We had an excellent day at the North Somerset Show on bank holiday Monday 6th May. The weather was exceptionally good to us all, with unbroken sunshine and a pleasant breeze all day. We took 6 juniors and came away with 8 rosettes which was a great result (admittedly one third place was taken by my son in the young handler section!).
Again our superb stud male Sizlin Hot produced the results we have come to expect of him; with his daughter winning Reserve Champion Brown Female in one of the largest classes of the show. The judge Dominic Lane articulated his decision to place her just behind the beautiful champion due only to a marginally slightly shorter staple length.
We also heard of Snowmass Sizlin Hot's other progeny successes. Champion Brown Male at the Salbris Show in France, and Champion Brown Female at the Futurity 2013 and Heart of England Show.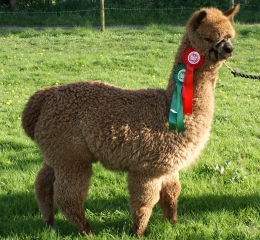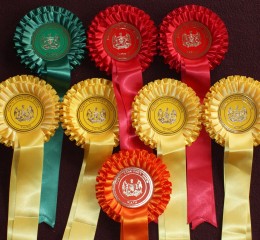 Willowbrook Sizlin's Secret Serenity - Reserve Champion Brown Female
3rd April 2013
Our purpose built alpaca facility proved to be a particularly valuable asset this winter. We were subject to a prolonged wet period during which time the whole herd was given unlimited access to the barn and ad lib fodder. The only difficulty arose once we returned to a drier spell. The alpacas had become particularly accustomed to their new 'indulgent' lifestyle and were somewhat reluctant to return to their fields!!
The solar array has been completed on the barn roof and will provide the farm with free, green power. Our electricity demands will largely be met by this system, with any surplus exported to the National Grid for others to use.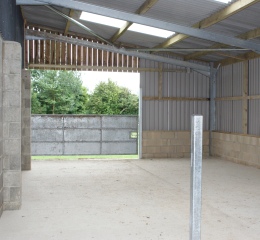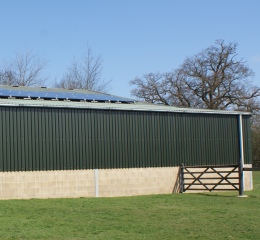 Purpose built alpaca facility
7th September 2011
Snowmass Sizlin Hot has done it again! I am very proud and pleased to announce that we gained 1st place in the Junior Fawn category, as well as Fawn Colour Champion at the Hope Fleece Show 2011 with his beautiful daughter Willowbrook Fleur. In addition, I had another very pleasant surprise when we went on to take 1st place in the Junior black class, and Black Colour Champion with Willowbrook Mimi. I have attempted to take a photograph of the two girls in all their glory, but we have been experiencing rather dreadful weather conditions here, so they are both looking rather damp and wind swept!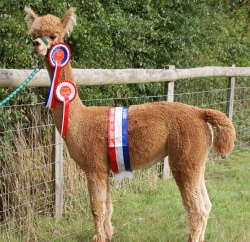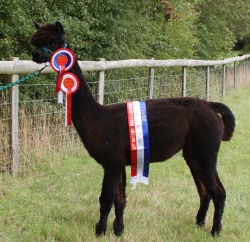 Willowbrook Fleur and Willowbrook Mimi - my two colour Champions!
6th July 2011
Have a look at our females for sale page. Atlantic Bevy, a solid white Huacaya female, is being offered for sale along with Collabear Ruby (solid brown) and Collabear Ebony (solid black). As we have limited space we have taken the decision to price these girls at a very competitive level for a quick sale!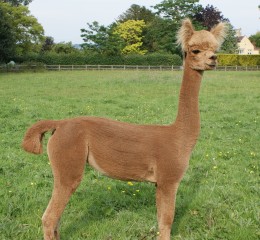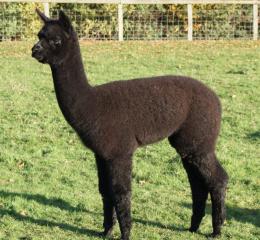 Willowbrook Fleur (Bevy's 2010 cria) and Willowbrook Ace (Ebony's 2010 cria)
7th June 2011
After waiting for what seemed a lifetime, we finally have two new arrivals at Willowbrook Farm. I think the hard winter we experienced has resulted in longer than average gestations, with many alpacas hanging onto their cria for a full twelve months!
As you can see from the photograph below, our elite male 'Snowmass Sizlin Hot' has again passed his dominant homozygous traits onto his offspring. I believe that I will have great difficulty distinguishing these cria, who are undeniably two peas from the same pod! (Click on cria page for more details)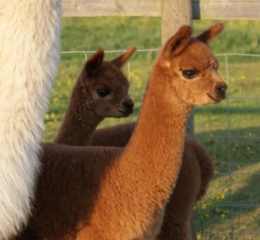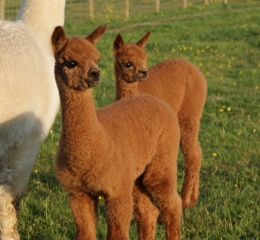 Willowbrook Apollo and his female companion
15th May 2011
I took this photograph of Tigger, our rather daft farm cat, just before our resident broody hen promptly removed him from her nest! I think he did an admirable job of keeping her eggs warm, but I am not sure our Rhode Island cockerel liked the look of his new mate!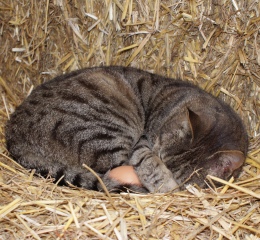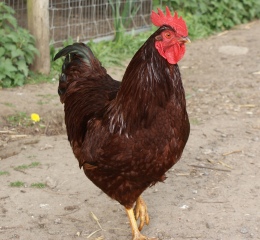 Tigger the broody farm Cat!
21st April 2011
During October 2010 the alpacas had a visit from the film crew who make Tractor Ted! For those of you who have not already heard of this famous little green tractor, it is his job to capture real life images of the British countryside and agriculture, and present them in a way that is appealing to children. Our boys were very excited to learn that they would feature in the next Tractor Ted video along with their own alpacas.
Tractor Ted has just released his new DVD called 'Tractor Ted meets more animals', which is available from most agricultural stores. It features some less conventional farm animals, and of course Willowbrook's star alpacas!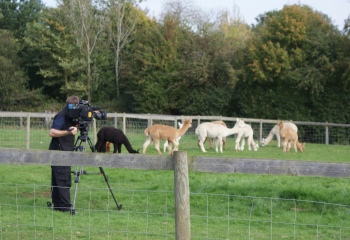 Filming with the alpacas - 'Tractor Ted meets more animals'
21st January 2011
Armina and Blaze have recently moved to join five other alpacas at their new home in Buckinghamshire. The girls are carrying great genetics and are both currently pregnant to Snowmass Sizlin Hot. I had intended to capture a photograph of them being loaded into the livestock trailer, but instead below is a picture of Armina taken in early November. This is when halter training is particularly beneficial as I was able to lead them up the ramp without a hint of reluctance; I am grateful to say!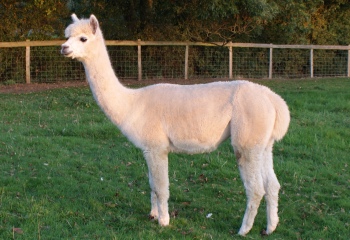 Armina shortly before moving to her new home
2nd December 2010
Building works are currently on hold due to the rather difficult weather conditions we have been experiencing. There are always an abundance of other tasks waiting to be accomplished, so not to be beaten, we set about laying one of the hedges in readiness for fencing a new alpaca paddock when the ground has thawed out.
We let the boys back out into the field this morning after they spent the night in the new barn, but so far they are keeping very close to their shelters!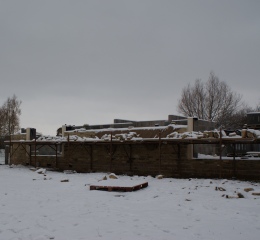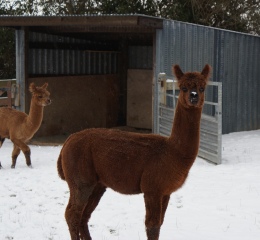 Snow progress on the building front!
11th November 2010
We are delighted with the success of our American herd sire Snowmass Sizlin Hot's progeny at this year's alpaca fleece shows. We entered his five 2009 offspring and went on to gain in the Junior classes a 2nd place rosette, 3rd place rosette, 4th place rosette, 5th place rosette and one highly commended. In particular we gained a 4th and 5th place in the Junior Brown class at the Scottish National Fleece Show where there was excellent competition with 268 fleeces exhibited at the largest fleece show in Europe! This is the first time his progeny's fleeces have been shown in the UK and without exception each gained recognition. Click on 'Show Success' for more details.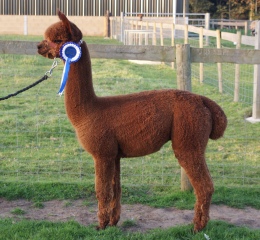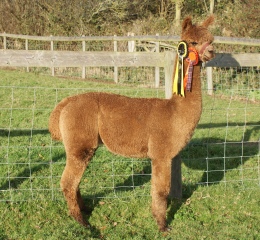 Rosette winners - courtesy of alpaca macho 'Snowmass Sizlin Hot'
I am still waiting for a break in the weather to get a snap of the boys with their rosettes!
8th November 2010
During the recent dreadful weather the alpacas have been thankful to have use of their new purpose built barn. They even have their own night light and ad lib fodder that is not accessible to other domestic animals or wildlife. I think some undisclosed individuals will have to start watching their already expanding waste lines!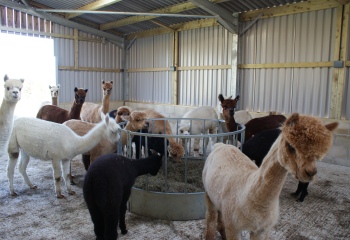 Making the most of the new barn - plenty of room for everyone
17th August 2010
Two new cria have been born into the herd. An extremely pretty fawn female we have named Willowbrook Fleur, and a solid black male with a remarkably bright fleece.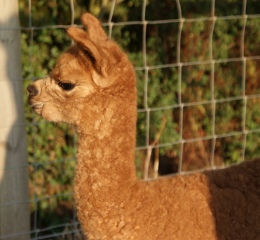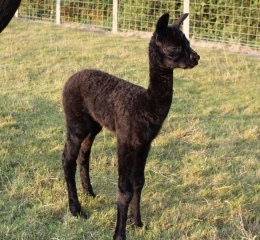 Snowmass bloodlines - the best of British and North American
21st June 2010
We have some lovely boys for sale who would make fantastic pets. Click on 'Males for Sale' for more details.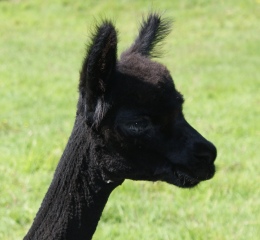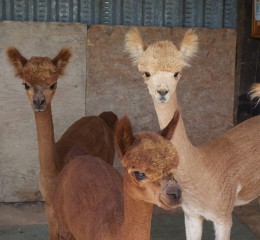 The super skinny shorn look! Keeping cool - Progeny of Sizlin Hot
19th June 2010
The builders have been commissioned and operations on the house build have commenced. They are certainly very keen, but I am unsure if any progress is being made!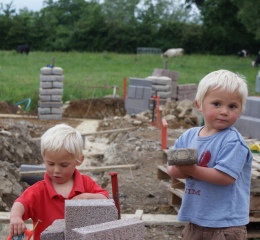 What do the numbers mean on this tape?
We hope that you enjoy navigating your way around our site and discovering more about the enchanting alpaca! If you have any questions please contact us for further information or to arrange a farm visit.
Hannah Welch
Willowbrook Alpacas
Willowbrook Farm
The Common
Broughton Gifford
Wiltshire
SN12 8NA
Tel: +44 (0)1225 782661 / +44 (0)7514 672147