Business aspirations
As is true with anything in life you can always buy poor quality cheaply! We have established our herd with the best quality animals we could source and continue to employ top stud males to enhance and build on an individual female's attributes. The breeding choices you make are critical to secure the future and continued success of your herd.
We carefully selected first-class genetics from some of Australia's and America's most coveted and respected lines in 2014. Snowmass Sizlin Hot (a multi-prize winning mid-fawn male purchased from the U.S.) featured heavily in our breeding programme last year, with his resultant offspring due from March through to October this year. His progeny have exceeded all our expectations, and with superior genetics obtained from three decades of selective breeding, he remains our number one choice to advance our coloured breeding programme.
We will also have cria on the ground in 2014 from EP Cambridge Strike Gold (a fawn male by EP Cambridge Valour - bloodlines including EP Cambridge Spartacus), and Lillyfield Jack of Spades of Inca (a black male by Blue Grass Bollinger - bloodlines including many famous Australian multiple AAA National Show Award winners ). Therefore anyone who may wish to purchase from us should realise real and prompt financial return on their investment.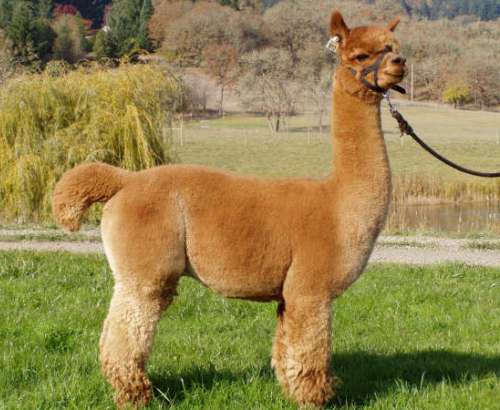 'Snowmass Sizlin Hot'
The breeding and selling of animals will obviously provide earnings which if you select animals carefully will occur very quickly.
You can sell the fleece either raw (straight from the animal) or add value to it by producing yarn or knitted goods. I spin the majority of my fleece which I then sell as hand-knit wool at local craft fairs. I also sell finished products such as cushions lavender bags and babies hats and booties. People are always keen to buy natural products that have been produced locally and are willing to pay a premium for unique handcrafted goods.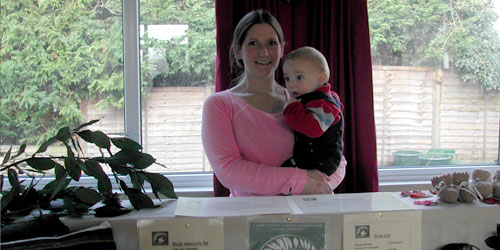 It is also popular to provide agistment (livery) services for customers who wish to keep alpacas but do not have their own land on which to do so. A client may want to purchase a single animal that cannot be kept on its own and so they choose to keep it with you. Agistment can also be made available for temporary periods for example if a client is going on holiday, is moving house, is taken ill, or requires assistance with birthing; reasons are almost endless.
Once in possession of your own stud male you can charge for outside services to other breeders. This is another means of generating income.
You can offer as many or as few of these services as you wish in order to suit your individual aspirations.
If you choose to breed alpacas you can expect to invest in a secure and profitable venture. Returns from sales of animals are high; alpacas have a life expectancy of 20 years or more so you can expect in the region of 15 cria from an individual; and at present no other farm animal can provide such high capital return on time or small acreages.